Anticipation?  Plenty.  Scheduling hurdles?  Tons.  Sleepless nights?  You bet.  And now, it was all coming together.  The Authors' long-anticipated appearance on The Sci-Fi Christian was finally happening!
After working out days off, setting up travel, and nailing down some last-minute child-care, (Thanks, Andrew) we were finally on our way to the northern suburbs of Minneapolis-St. Paul to meet Matt and Ben–two of our favorite podcasters and all-around great guys.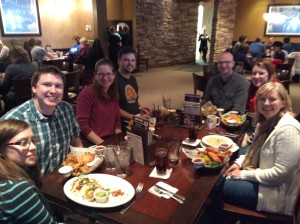 We all agreed to meet for lunch, prior to the podcast.  Walking into the restaurant, we were excited that questions we had held for weeks, if not months, were at last going to be answered.
What is Ben really like? (Taller.)
What is Matt really like? (Nicer.)
What are their wives like? (Saints.  Very patient, wonderful saints.)
Would we discover little-known, behind-the-scenes facts that would shed heretofore unrevealed light on Ben's ill-fated vacation to Disney World? (Yes.)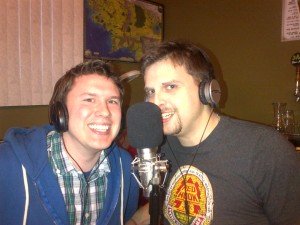 As we continued on to Rebel Underground Studios (Closer to the restaurant than world-renowned BAM! Studios and more convenient to all participants) some questions still remained.
What is the studio, also known as Ben's office and man-cave, like? (Awesome.)
How many swords does Ben have on his wall? (Five.)
How many could we correctly identify? (All of them, Aaron=4.5, Allan=1)
Is Matt as skilled and natural as an interviewer as he seems to be on the podcast? (Absolutely.)
Do the two of them bicker like an old married couple until the guests are laughing so hard they can't answer questions? (Yes.)
So the mics were set up, chairs arranged, and headphones donned. We were about to begin.
What immediately followed might seem like a small thing, but to us, it wasn't. It was something Matt has said at least 220 times before–routine by now, we're sure–but it was, in all sincerity, a thrill to sit across the table and actually hear those words, live and in person:
"Welcome to the Sci-Fi Christian, bringing you theology at warp speed…"
Thanks, guys, we had a blast!
You can listen to the entire interview by clicking here.  First half–spoiler-free.  Second half–Spoilers galore, with a peek into future developments.