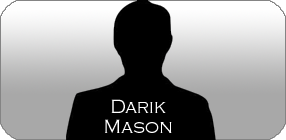 Darik Mason was the first of three sons born to a Midwest, working-class couple.  Even from a young age, it was evident that Darik was an exceptional athlete.  Heading into his secondary education, he was offered a partial athletic scholarship to Cobb Academy, a prestigious East Coast boarding school.  His parents, thrilled by the opportunity for Darik, sent him off, sacrificing nearly everything to do so.
After paying his dues as a freshman, Darik made the varsity rugby squad as a sophomore, helping the Crusaders to their first winning season in four years.  (The name "Crusaders" had, for a while, been the subject of mild controversy, but has been allowed to remain due to the school's long and proud athletic tradition.  As a compromise, the old "cross-on-shield" logo was changed to a rather generic-looking "C.")
Darik's roommate at Cobb was the same freshman through senior year, a fellow rugby teammate named Stephen.  Darik suspected early on that Stephen was a Christian.  Nevertheless, they became close friends.  Darik, of course, thought that Stephen's faith made him a little odd, but he discovered him to be a pleasant person and a superb teammate.  Over the first three years, Darik found himself growing more curious about Stephen's faith, even asking the occasional question now and then, but it never progressed much beyond that.
Tragedy struck a few weeks into Darik's senior year.  He learned that both of his parents had been killed in a terrorist attack.  Darik returned home for the funeral, then—to everyone's surprise—returned to Cobb two days after.  The rugby team had high expectations for that season, and as captain, Darik felt he had a responsibility to the team.  On his first day back at practice, he got into a scuffle with Stephen after some physical play during a drill.  Later that night in the dorm, a comment by Stephen set Darik off.  Darik assaulted his friend, bashing his face repeatedly.  A couple of days later, Darik was suspended for one day and Stephen was expelled.
Darik went on to lead the Crusaders to their first league championship in twenty years—an emotional season dedicated, of course, to his parents.
After graduating from Cobb, Darik continued to play rugby at the college-level, but he knew there wasn't much of a future professionally in it.  Rather, he focused his energies into making the most of his education—an education his parents had sacrificed and died for.  He set his sights on the Coalition's most successful company—JenKore.  At the university, he majored in business and minored in programming, hearing, correctly, that software was the most rapidly expanding division of JenKore.
After earning his degree, Darik applied to JenKore, accepting a low-level position as a sectional manager of general security.  Basically, he was middle-man between police academy dropouts and the normal business operations of JenKore.  With absolutely no experience in security, Darik took a three-week training course and then was dropped into the day-to-day operations.  Despite having little knowledge of the security field, Darik, having been used to leading rough-and-tumble types on the rugby field, performed well in his position.  After three years on the job, he was promoted to a middle management position, overseeing programming upgrades for the M-2 service machines.  To him, it wasn't necessarily the most exciting work, but it offered a substantial pay-raise and moved him up the corporate ranks.
From there, Darik continued on a steady rise through JenKore, due partly to his quality work, but mostly by the guidance of JenKore CEO Kirrone Jenkins who, having learned of Darik's background, took a special interest in him, fast-tracking him up the ladder.
Darik is currently the Director of Mining Security.  He has been at the same position for over two years and is anxiously awaiting his next promotion.