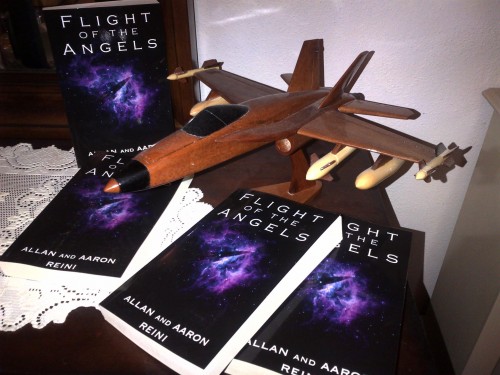 It's now been a week since Flight of the Angels was released, and we'd like to thank you all for making it a successful launch.
At one point this week, the Kindle and Paperback editions were #1 and #2 in Amazon's Hot New Releases: Religious Science Fiction & Fantasy category. (Not exactly the New York Times best seller list, but it's a start!) The Kindle edition also cracked the top 20 for all Religious Sci-Fi books.
This website also launched this week — a big thanks to Aaron Broberg for getting it up and running in a criminally short time-frame. Check out AandBe Studios for top-flight design and great customer service.
We also want to encourage you to check out the S/A-81 Hornet, Combat Engagements, Glossary, and Bios pages. They contain a lot of information about the FOTA universe, including material that wasn't referenced in the book.
Finally, your feedback is always welcome and appreciated. Let us know what you think about the book and/or the website.