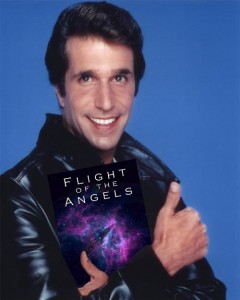 Discussion questions are now available!
Here are some questions about the discussion questions (answers below):
1. Should I use these in my book club?
2. I don't have a book club. Should I start one and make Flight of the Angels our first book?
3. Where can I download a PDF version of the questions?
4. Are these questions ALA certified?
5. Does the Fonz really endorse Flight of the Angels?
*   *   *
(1. Yes  2. Yes  3.  Here  4. No  5. Absolutely he does)