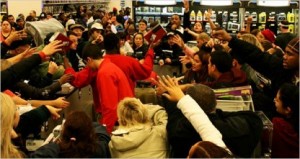 Never let it be said that Hendiadys Press does not participate in the rampant consumeristic madness that is Black Friday.
From now, through December 7th, Flight of the Angels, paperback, is officially ON SALE for $13.99. (12.5% savings, and not coincdentally, the lowest price the JenKore-designed Amazon Pricing Calculator will allow for a 374 page book.)
The Kindle and Nook versions are available for the rock-bottom price of $2.99. (79% savings over paperback.  And you will not be recieving a visit from the Coalition Eco-enforcement Division.  That's a plus!)
So avoid the crowds!  Give the gift of FOTA to everyone on your list!