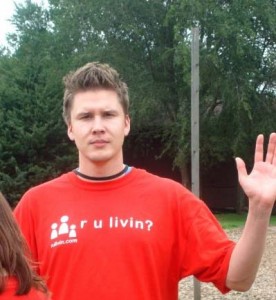 This is Matt.  Matt is one of the hosts of The Sci-Fi Christian Podcast.  He has recently married, has a great job, and the podcast is growing in popularity and impact.  In short, things seem to be going very well for Matt.  But Matt has a problem.  And you can help him.
Matt has developed a tiny reputation for taking a long time to finish books he has been intending to read.  And by a long time, we mean, like, sometimes, never.
This is where FOTA comes in.  Almost a year ago, Matt graciously mentioned, on the air, that he was going to read Flight of the Angels.  Naturally, given his track record, we were skeptical, but still, hope remained.
Recently, Matt announced that he was going to begin reading FOTA, on his honeymoon, of all things.  And he did. (He actually waited to start reading until the plane ride home—we applaud this intelligent choice.)
But then, Matt seemed to get stuck, at about fifty pages in. (Note to editors: Check page 50 to see why.  Does it suddenly get very boring?  We hope not.)
Enter Matt's Sci-Fi Christian cohost, Ben.  In order to prompt Matt to a higher level of personal responsibility and promise fulfillment, Ben and Matt decided to hold an Official Sci-Fi Christian Contest, with a signed copy of Flight of the Angels as the prize.
Entering the contest is extremely simple.  All you need to do is predict the date that Matt will finish reading Flight of the Angels (Note: the date, "Never," has already been taken.)  Send your best guess to ben@thescifichristian.com and then wait for the results, perhaps cheering Matt on as your choice approaches.  As previously noted, the winner will receive a copy of FOTA, signed by the authors, and possibly a nice shout-out from Ben and Matt on the podcast.
So get your entries in, Angels!  And while you are anxiously anticipating the results, be sure to check out www.thescifichristian.com.  Not only is it an awesome, funny, and thought-provoking podcast, but the web site has a ton of superb Christian-geek content as well.  FOTA highly recommends it!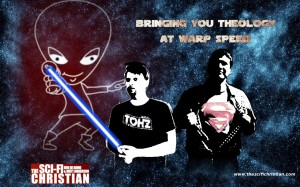 For more details on the contest, check out the Sci-Fi Christian's Facebook page here.
Update: All entries must be in by Friday, October 4th, 2013.  Your range for predictions is October 4, 2013 – September 30, 2014. (After the end date, the person who guessed "never" wins.  It's only fair. )