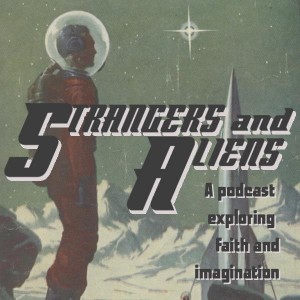 Back when FOTA was merely a blip in our imagination — a 5,000-word beginning, but not much more — one of the authors (the old guy) used to fantasize, thinking, "What if someone actually wanted to talk to us about it?  You know, maybe even interview us on the radio or something?"  (The idea of something cool, like a podcast, wasn't even on our radar.  It was a long time ago, and as previously stated, I am old.)
We want to thank Ben Avery, of the Strangers and Aliens Podcast, for graciously making that part of the dream come true.  Ben, a prolific and published writer, himself, is on a quest to find quality Christian Sci-Fi and is a great advocate for removing the stigma of self-publishing and promoting the ever-growing community of Christian Sci-Fi/Fantasy authors, producers, and all-around creative people.
In a fun 41-minute interview, Ben asked us about Flight of the Angels, the father/son collaborative process, self-publishing, and even quizzed us on our favorite C.S. Lewis books.  To hear the interview, click here.
And be sure check out (and review) the rest of the Strangers and Aliens site and podcasts.  It's Christian Nerdvana!